Absolutely Boston Terriers is a small family of Boston Terriers and their people. My very first encounter with this marvelous breed was as a child. I grew up in Brooklyn, New York and our neighbor let me walk one of his dogs to the park with him. I wished I could have a Boston but my family was not on board with that plan. Fast forward to our life in Florida and I was able to make my wish come true about 8 years ago. Then in 2017, my son bought 8 acres in West Virginia and it was off to the North again. It took time to clear the land and build 2 homes but it was a great decision. My grandchildren are a great help to us and we love the change in seasons, and Bostons love snow. We have an ever-growing family of Bostons here in West Virginia but still maintain ties to our Boston family and friends in the Ocala, Florida area.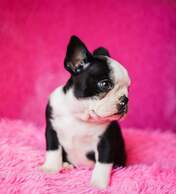 We ascribe to the AKC standards and are part of the Bred with H.E.A.R.T Program. My Vet is an expert in reproduction and will be involved with the puppies and their health. When ready the pups will have a head-to-toe exam by Dr. Lesley Parisi, all age-appropriate vaccines, and a health guarantee for 1 yr. against any life-threatening genetic disorders. All our companion puppies regardless of gender are priced at $2500 up. I refuse to marginalize any pup by gender or color. That being said from time to time I may offer a particularly outstanding puppy that was held back for evaluation and priced accordingly, and slightly higher price. Specializing in Boston Terriers companion pets for a devoted family or personal companion. As a retired Registered Nurse I can tell you my puppies are healthy and will bring a world of joy to you. We go above and beyond to DNA test our dogs to eliminate negative health traits. We do no inbreeding as we believe in outcrossing to select the best traits to produce the best possible puppy. We are committed to the overall health and longevity of your Companion. Bostons are so well-rounded and suit any situation, and love everyone. The level of devotion and affection these little dogs can give is limitless. All pups sold with spay/neuter agreement. Unless it's is someone I know and who follows our standards. We will never sell to a Kennel Situation or Pet Broker. Our pups come Micro Chipped and Enrolled in AKC Reunite for life. All pups guaranteed to be free of JHC signs and symptoms for life, and free of life-threatening genetic disorders for 1 full year, as well as DM. Our dogs are athletic, I have no heart or patella problems in my adult breeding dogs, they have good bone and spines, we avoid breeding dogs with known breathing problems and prefer a BOAS score of 1 or less. We x-ray spines of our breeding dogs to avoid hemivertebrae (a genetically inherited bone malformation) common in the breed. I have 30+ years of experience breeding dogs but have chosen to devote myself to Boston Terriers exclusively in the last 7 years. Our dogs are tested for JHC and DM prior to entering our breeding program and avoid breeding carriers together. We have Baer and Cerf-tested breeding dogs as well. We love all our puppies and are committed to providing lifelong support for their families.
We do not accept advance payments to be on a list, deposits are accepted when born and at least a few weeks old. We request a $500. deposit once you have made your decision and the balance at 8 weeks.
If you make an application it does not constitute a contractual agreement or obligation to provide you a puppy or guarantee we will have one for you. It does not obligate you to purchase from us either. We do our best but cannot control litter size, color, gender, or conception.
All the dogs are in my home, and are beloved family pets; we do not have a Kennel. Puppies begin early neurological stimulation from the day of birth and socialize them with children and pets, this helps prepare them for an easy transition to their new home. We have incorporated elements of "Puppy Culture" in raising our pups to help them reach their full potential as true Companions. We provide weekly updates and pictures and can Facetime with you. If you have chosen a name I will use it during our daily bonding sessions. Your puppy will have routine weekly nail care from 1 week of age and weekly baths after 4 weeks of age, thus making grooming a pleasant experience.
We have traditional Black and White as well as Brindle and White, and Seal Brindle Boston Terriers. Our color line consists of Blues, Chocolates. We love the Diversity of color in this breed and strive to breed to the standard tuxedo type with our colors also. Brady comes from Champion lines, which include Westminster Winning dog Cosmic Ray. Carolyn my Partner and daughter in law's mom has taken on more of our color producers. She has 2 of Bonnies' blue daughters as well as Kali. We currently have 2 litters from all these lovely ladies. My beautiful Dixie will birth a Traditional Tuxedo litter September 2022. Puppies are raised on a quality puppy kibble by Purina Pro Plan, we use Focus chicken and rice formula, also a little yogurt, and NuVet Plus Vitamins.
My dogs are fun-loving, beautiful, and devoted fur babies.
The Therapeutic Value of a puppy from Absolutely Boston Terriers can be life-changing for someone with Autism, PTSD, or Depression. They are Kid friendly and Grandma approved for sure.
Our dogs will smother you with kisses and are Champions of "Unconditional Love" that's the "BOSTON TERRIER" from Absolutely Boston Terriers. If you are averse to wet kisses and climbing in your lap these dogs are not for you, so spare us both and look elsewhere.
We are located about 100 miles west of Washington DC, a short drive from Maryland, Virginia, Pennsylvania, and Delaware. We are excited to tell you we have pet Ground Transport available within our family as well as private transport for longer distances.

You can look at more photos and videos here and shoot me an email if interested. Facebook: Absolutely Boston Terriers

As a breeder, I do not measure my success by the number of winning show dogs I may produce, but by the number of dogs that remain with their family for a lifetime. It is my sole purpose to produce the best companion dog that will provide a lifetime of love and affection, and enjoy good health. Thank you for your interest. Christine